Mamma Mia – Queen Elizabeth Theatre – August 16, 2011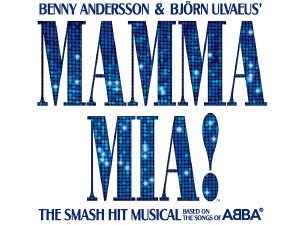 For one week only Mamma Mia returns to Vancouver.
Opening night brought a full house to see the musical comedy inspired by the music of Abba.  Mamma Mia is set in a small Greek Island and tell the tale of Sophie, well performed by Chloe Tucker, a young woman about to be married. Having never known her father, finds her mother, Donna's diary and invites three possible men to her wedding to find out which one is her father and have him walk her down the aisle.  The ensuing drama of Donna seeing the three former suitors for the first time in 20 years is played out in Abba songs, like S.O.S., Our Last Summer and The Winner Takes It All.
Donna's longtime friends and former backup singers from her days in the girl group, Donna & the Dynamos, provide her a shoulder to cry on as well as much of the comic relief thoughout the play.  Played by Alison Ewing as thrice divorced (and seeking more) Tanya and Mary Callanan as the rubenesque, "free woman" author Rosie, the duo are a power house when performing together and completely grab the spotlight in their solo numbers, Does Your Mother Know and Take A Chance On Me, respectively.  Add in Kaye Tuckerman's Donna and the trio truly make a great girl group, perfectly playing off  each other for their 'one night only reunion" to Super Trouper.  However, at time's I felt, Tuckerman's hugely powerful voice and intensity on her own seemed to overpower the more intimate songs feeling like she was just angry than mixed of emotions and melancholy the character.  The three potential fathers were well acted by James Michael Lambert, John-Michael Zuerlein and Tony Clements but were definitely out-sung by the female cast.
As a whole the company was a good match, unlike a previous performance I'd seen of Mamma Mia with a noticeably weaker cast member standing out for the wrong reason.  Here everyone held their own, making for a good ensemble and displaying good chemistry.  The chemistry seem even more noticeable during the finale as the actors break character slightly.  After the wedding and story of Sophie and Donna concludes the entire cast break into rousing renditions of Dancing Queen as they take their bows.  Part way through the song "Donna & The Dynamos" appear in their Abba inspired costumes to be followed on the next verse by the 'Fathers' in their own versions of the costumes.  The Super Group then lead the cast into the songs Mamma Mia and Waterloo, wrapping up the production on a feel good mood with the audience on their feet clapping and dancing (and in some cases singing) along as they leave the theatre.  Leaving on such a fun musical high, make the tiny criticisms of the production insignificant.  Grab your friends and "take a chance" on Mamma Mia!
Mamma Mia plays at the Queen Elizabeth Theatre in Vancouver until August 21, 2011.  Tickets are still available at Ticketmaster.ca