While we hope these April showers bring May flowers, the city is certainly a float in entertaining picks this week!
Trailblazer: An icon of Canadian civil-rights heritage is coming to Gateway Theatre with the presentation of the critically-acclaimed musical Hey Viola! opening April 13 running to April 22.  
Festival: Continuing until May 28th, Urban Ink and The Cultch welcome new works and past favourites to a free, all-digital TRANSFORM Cabaret Festival focuses on empowering Indigenous artists and encouraging collaboration with non-Indigenous artists.
Cabaret: At The Arts Club Granville Island Stage, until April 30, Rubaboo is a theatrical indigenous cabaret, guided by powerhouse Métis performer Andrea Menard, an acclaimed singer-songwriter and actor. Featuring the sounds of drums and guitar, this grand musical feast includes songs of reconciliation, unity, love, frustration, and resilience.
Dinner: There's just a few more days to get a taste of Provence Marinaside's Owner/Chef Jean-Francis Quaglia favourite French comfort foods with diners in a unique format Provence is calling 'Quelle Surprise' ('What a Surprise'), only on until April 15th.
Femme: The Cultch's sixth annual Femme Festival features seven performances from women in music, theatre, dance, comedy, and circus, on its three stages starting this Saturday April 15 until May 14, 2023.
Noise: Opening April 15 and running to May 7, The Firehall Arts Centre and Savage Society present the remount of Taran Kootenhayoo's White Noise, a comedy about two families who have dinner together for the first time during Truth and Reconciliation week.
Dance: The Dance Centre and Théâtre la Seizième present Hillel Kogan's We Love Arabs, a dance duet performed by Kogan and Mourad Bouayad, blending biting political and social commentary with a highly physical movement language from April 13-15, at the Scotiabank Dance Centre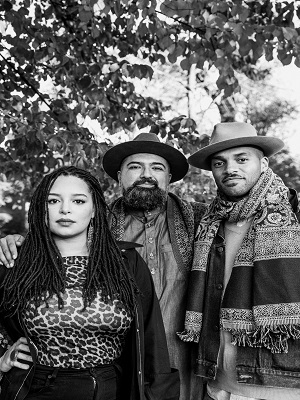 Music: Friday, the Shadbolt Studio Theatre welcomes a concert by Ruby Singh and The Future Ancestors, weaving inspiration from the Delta Blues and Qawaali to golden era Hip Hop to create a tapestry of spirit expressed.
Buster: Also at the Shadbolt Studio Theatre, on Saturday evening Music, Words And Buster Keaton will feature poet Onjana Yawnghwe and novelist Hazel Jane Plante opening the show with a discussion of Keaton's biography, his aesthetics and how his films have inspired their own writing projects. Followed by a screening of 2 Buster Keaton Films- The Ballonatic (1923) and Sherlock Jr. (1924) with live improvised music by Roisin Adams (piano) and Barry Mirochnick.
Latin: Saturday evening, Latincouver host the Inspirational Latin Awards a chance for guests to mix and mingle during a cocktail reception, bid on exciting items like flight vouchers, artwork and attraction passes, and meet the nominees before the official awards presentation begins then enjoy an after-party with a live performance by Latin jazz band, Rumba Calzada.
Scotch: Shot of Scotch Vancouver celebrates 10 years of Highland dance in Vancouver with a special cèilidh on April 15, a festive evening of dance and music, featuring performances by the Shot of Scotch Vancouver dance company, Celtic band Blackthorn, and the Vancouver Police Pipe Band.
Gallery: On display until May 14, Polygon Gallery presents As We Rise: Photography from the Black Atlantic Curated by Elliott Ramsey, the exhibition is organized by Aperture and features more than 100 photographs from the Wedge Collection — Canada's largest privately owned collection committed to championing Black artists.
Photo: Keep your eyes open until April 30 for the the Capture Photography Festival, Western Canada's largest lens-based art festival, pops up at dozens of galleries and other venues throughout Metro Vancouver, also including an extensive Public Art Program, an Events Program including tours, films, artist talks, and community events as well as an educational partnership with Emily Carr University.
Concert: Across the water in Nanaimo, The Port Theatre hosts the only BC performance by Venezuela-born Latin Grammy Award winner, Nella on Sunday April 16th
Sun: There's still about 10 days to take off to the sun as Hawaii From Above makes a return to Fly Over Canada, bringing its lush forests and flowing waterfalls to sandy beaches and dazzling shorelines to the Canada Place attraction