Spooky Season is in full swing, plenty of thrills and chills abound with plenty of entertainment to fill the Halloween week's picks
Disco: Put on your bell-bottoms, flower crowns, and peace signs, because it's time to celebrate the era of peace and love and admire the new artwork created by Olivier Salvas Artiste for Disco Nap: Halloween 70's Peace & Love Themed Art Party at 175 West Hastings Street featuring performances by Mina Mercury & Gloria Hole.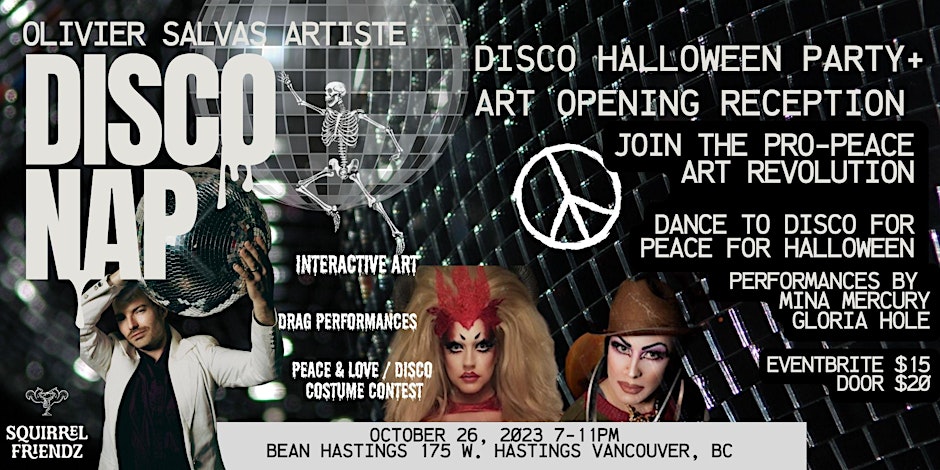 Murder: Until October 28th, The Improv Centre on Granville Island presents Stage Fright 2: Murder at the Disco! The Improv Centre's wildly successful murder mystery is back with a groovy new twist.
Village: October 26-29, Burnaby Village Museum's Haunted Village returns, bringing haunted tales and stories from the pages to the museum's 10 acre grounds
Fright: Spectacular, spooktacular fun and thrills abound at Fright Nights at PNE. Experience the haunted houses, spooky actors, and thrill rides until October 31st
Pumpkins: Explore the magical pathway of lit pumpkin sculptures and displays, with music, sounds and special effects and characters with the return of Burnaby's Pumpkins After Dark, open Thu-Sun until October 31 at Swangard Stadium
King: Spooky season comes to The Beaumont Studios until October 27th – The Shine, a twisted gala of gore and glam, where Stephen King's most iconic characters take centre stage in a burlesque and cocktail cabaret bonanza.
Howl: Join Biker Mama and her band of of spooky sidekicks as they take a supernatural journey across Canada during Howl Over Canada until October 31st at Fly Over Canada
Canyon: Until October 31st, the always thrilling Capilano Suspension Bridge Park has more thrills and chills in store if you dare to visit for Canyon Frights! The spirits of the past come to life as they enjoy a Halloween gathering reminiscent of a Victorian 'Fall Fair'.
Parade: The Dusty Flower Pot Cabaret's annual Parade of Lost Souls returns to Commercial Drive, Saturday October 28th from the Britannia Library, with the Parade of Little Souls starting at 6:30pm, then Parade of Lost Souls processions at 7:30pm and 8:30pm followed by the After Party at 10pm
Catering: From October 27-November 18, at Metro Theatre, laugh along with Alison Lawrence's The Catering Queen – Set in West Vancouver, the classes clash when the catering staff for a company Christmas party express their true feelings, opinions and dreams
Cirque: Cirque du Soleil, Kooza, is back in Vancouver, an eclectic and electrifying trek through the childlike imaginary world is now playing at Concorde Pacific Place in Vancouver until December 31,  
Pucks: Rogers Arena hosts a pair of Vancouver Canucks games with St Louis coming to town on October 27 and New York Rangers on October 28
Beast: On October 26th Kim Petras' Feed the Beast World Tour makes a stop at the PNE Forum
Comedy: Tonight, the Vogue Theatre welcomes some comedy with Eddie Izzard The Remix Live Tour – The First 35 Years is an evening of reminiscences and reimaging of the last 35 years of comedy.
Laughs: More comedy comes to the Vogue Theatre on Thursday when Just for Laughs presents Girls Gotta Eat – Snack City Tour a live evening with the top comedy podcast
Mozart: Vancouver Opera launches its 2023–2024 season with the lush and beautiful production of Wolfgang Amadeus Mozart's The Magic Flute on the Queen E Theatre stage October 26, 28, 29
Aotearoa: The Cultch and Urban Ink present the world premiere of Te Tangi a te Tui by Te Rehia Theatre and The Dust Palace (Aotearoa / New Zealand), a Maori cirque theatre epic about adaptation and authenticity until October 29
Pets: On display until November 29 at Janaki Larsen Studios, fine art photographer Michelle Leone Huisman presents the Vancouver premiere of her new solo show CMYK9, the exhibition features hand-painted photographs and imagines how dogs may have experienced the pandemic.
Blues: Friday at The Massey Theatre, The Colin James Blues Trio bring their classic sounds to the stage
Dog: Saturday and Sunday, The Massey Theatre welcomes Dog Man: The Musical a hilarious production based on the worldwide bestselling series from Dav Pilkey, the creator of Captain Underpants and Cat Kid Comic Club.
Cyrano: At The Arts Club until October 29th, Someone Like You, is a millennial take the classic Cyrano de Bergerac in the world of dating apps and social media
Exhibition: Until October 28th, join artist David Wilson at the VisualSpace Gallery in Vancouver, as he unveils his latest collection "The Ground Beneath My Feet," a solo exhibition showcasing an entirely fresh and comprehensive body of work.
Gallery: Until November 19th, The Vancouver Art Gallery is showing the landmark exhibition, Parviz Tanavoli: Poets, Locks, Cages – the first major presentation of works by Iranian-born, Vancouver-based artist Parviz Tanavoli in Canada.
Crisis: On display until November 5, 2023 at The Richmond Art Gallery, Sonja Ahlers' Classification Crisis takes a look at the 30 years of Ahlers careers as an influential voice for generations of feminists through her D.I.Y. approach to collage art, poetry, zines, mail art, and other publications.
Carr: Until September 2024, the Vancouver Art Gallery is showing a yearlong exhibition featuring highlights from its permanent collection of Emily Carr paintings. Emily Carr: A Room of Her Own explores the intersection between celebrated Canadian artist Emily Carr and the Vancouver Art Gallery.