Ensemble Theatre Company's Summer Repertory Festival has returned to the stage, with a new home at Waterfront Theatre on Granville Island. Antoinette Nwandu's acclaimed play Pass Over alternates with the festival's other production, Marjorie Prime.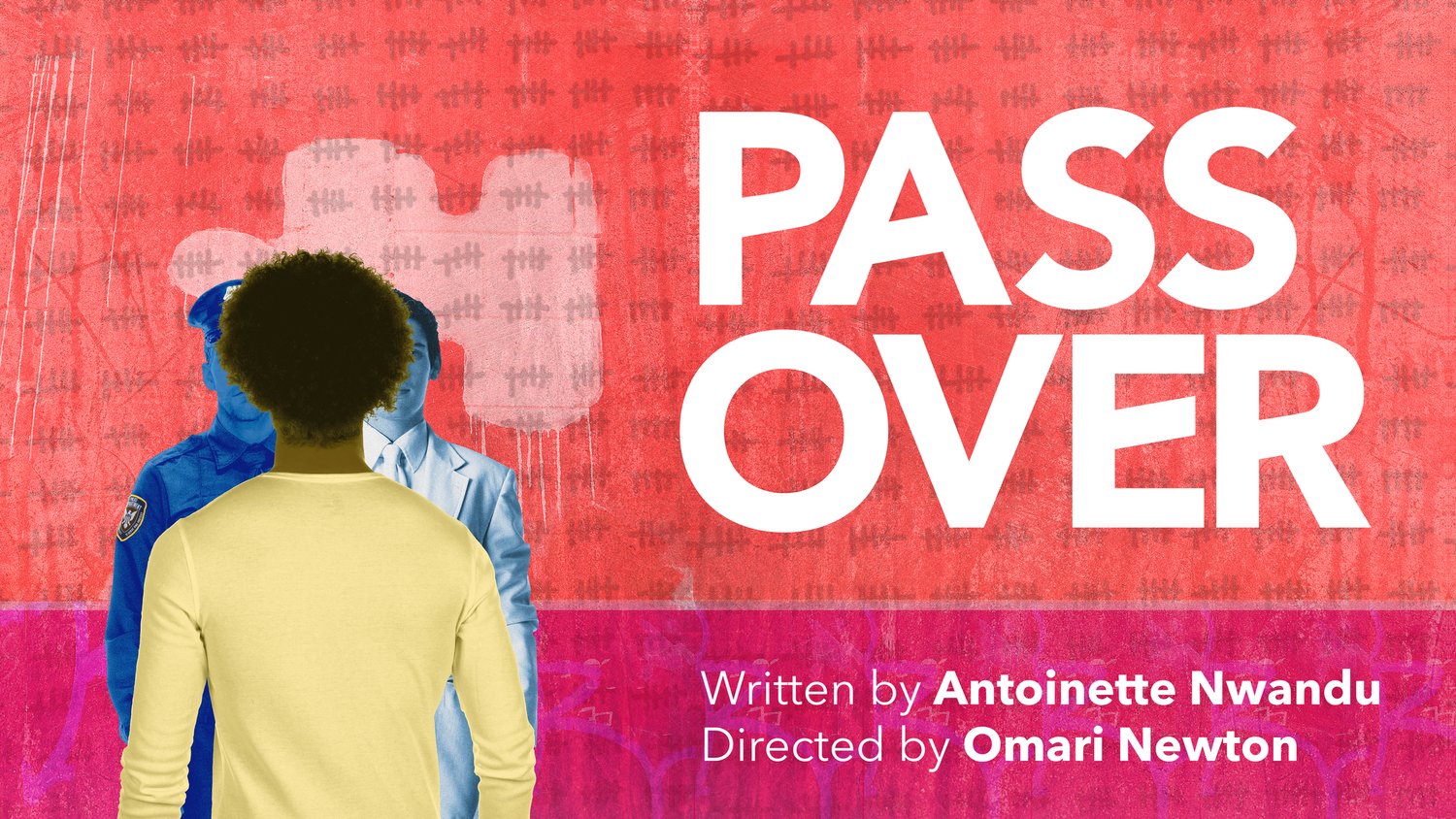 Directed by Omari Newton, Pass Over draws from Samuel Becket's Waiting For Godot, the Book of Exodus, and American history to bring the tramps and enslaved from those stories into today's rough streets of Chicago.
Here we find the dimly lit street corner where Moses and Kitch, perfectly played by Chris Francisque and Kwasi Thomas respectively, live out their time…and every second of the 85 minute drama. Day after day they wait, and hope, to leave this purgatory and cross the proverbial river to the 'promised land'. Just like The Jeffersons they dream of moving on up to a deluxe apartment in the sky, but they are kept to their block in life by an oppressive police state. Slowly losing more and more people they know to the police and violence, Moses and Kitch live on a knife's edge ready to duck for cover, or kowtow to the authorities. A chance encounter with an overly friendly and slightly sinister stranger (Alex Forsyth) jolts the duo out of their repetitive daily life feeding them the idea that there could be a way off the block. Unfortunately, the police (also played by Forsyth) have other ideas and the pair are back to square one, or are they?
In Pass Over, through Moses and Kitch, Antoinette Nwandu makes the audience ask themselves what is the American Dream, who is it really for and is it the same for everyone? While we here in Canada may read about it or hear it on the news, Chris Francisque and Kwasi Thomas bring it to life and present it in a blunt modern perspective that most should be able to relate. There are those who like to tout how much progress has been made in race relations and poverty. However, by relating the play's Moses to the biblical Moses, it show just how little has changed as over a millennium later the powerful are still marginalizing a perceived minority group who are just looking for the Promised Land, or to seize their American Dream.
Pass Over is thought-provoking and heavy at times, but it also offers light, hope and a bit of comedy as Moses and Kitch try to make the most of their moments. Everyone should be able to relate the story and questions in Pass Over to themselves, or have seen it in a our own news stories of marginalized communities. How audience members react to the play, will reflect their own place in the story, but for everyone, after the worthy applause dies down, some introspection will likely follow.
Pass Over plays alternate evenings with Marjorie Prime as part of Ensemble Theatre Company's Summer Repertory Theatre Festival until July 2, 2022 at Waterfront Theatre, Granville Island. Festival Passes and single tickets are available online at ensembletheatrecompany.ca. Audiences should note, the play features liberal use of the N-word, profanity, gunshots, loud noises and flashing lights.